EMBRACE 'Dry Kids (B-Sides 1997 – 2005)'
EMI CDHUT86 (2005)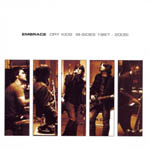 Embrace have never quite made the Premiership. But on the strength of this collection you would have to wonder – why? Possibly because Huddersfield isn't the centre of the universe. But it's unfair to hold that against anyone.
Normally, single b-sides are only for train spotters and anoraks. And usually, they're on the b-side for a reason – padding. But occasionally, just occasionally you get band who hide hidden gems there. Embrace appear to have hidden the crown jewels.
Dry Kids is a quite astonishing compilation. Marketed as a companion to the Fireworks: Singles 97- 02 collection, common opinion amongst fans is that this is a far better representation of what Embrace are all about. And as a newcomer to the band, I have to admit to being impressed. Very impressed.
There's breadth, depth and quality on offer here. The Shot's Still Ringing has a Verve sort of feel. Flaming Red Hair evolved from a jam based on Michael Jackson's thriller – and it's a stonker. One Big Family has a wonderful Madchester groove. Blind could give Oasis a run for their money and Brother And Sisters kicks out the jams.
There's some excellent ballads – Maybe I Wish, How Come, the crowd favourite Dry Kids, Butter Wouldn't Melt and Love Is Back. There echoes of Neil Young, particularly on the aching Madelaine – a song any band would be proud to have in their repertoire. Free Ride is beautiful, as is Waterfall. The Way I Do ventures into Otis Redding territory.
The 8 minute Feels Like Glue has a U2 meets the Stones rambling feel. I've Been Running starts with Stairway To Heaven chords before lapsing into a Whiter Shade Of Pale groove. Milk And Honey opens with echoes of Bad Company's Feels Like Making Love. It's a remarkably diverse collection, but somehow it all hangs together.
If you're a fan of Embrace, this is an absolute must buy. And if you're not, buy it anyway. It's a damn good album whichever way you look at it.
****
Review by Pete Whalley