ELTON JOHN The Captain & The Kid
Mercury (2006)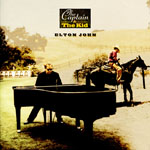 OK. Hands up. Who would buy an Elton John album? One of our greatest singer showmen may not seem relevant in the digital age. And his latest offering does nothing to dispel the thought that his best work is done.
In fact, Elton and long-time lyricist Bernie Taupin have gone back to 1975 for inspiration and updated 'Captain Fantastic'.
'Captain Fantastic' was an autobiographical journey at a time when both musicians were trying to break into the music scene.
Post-1975 of course the two had made it, and Elton went on to become one of our biggest and best-selling artists, on both sides of the Atlantic.
The first thing to say about 'Captain And The Kid' is that it is short, apeing the original, and it will appeal first and foremost to Elton die-hards who have followed his career since the early days. And I am sure they will pore over the lyrical twists and turns.
Unfortunately there's no lyric sheet with our advance promo, but basically each song brings the Elton phenomenon up to date and documents a musical journey spanning 30 years, to lesser or greater effect.
'Postcards From Richard Nixon' opens the proceedings with Elton's trademark piano flourish whilst 'Just Like Noah's Ark' has all the rumbustiousness of early Faces or for that matter early Elton John. 'Tinderbox' and 'And The House Fell Down' is classic Elton and would sit easily with his best works.
The mid-tempo 'Blues Never Fade Away' and the ballad 'The Bridge' will delight the converted, with its 'Your Song'-like timbre.
The album is very seventies, especially when compared to recent offerings like 2001's 'Songs From The West Coast' which marked something of a renaissance. But in truth, there's not enough darkness on this album, it's all too upbeat and traditionally safe.
Fans, then, will welcome this, but it won't shake the earth for anyone else.
***½
Review by David Randall