ELO Remasters Sony BMG (2006)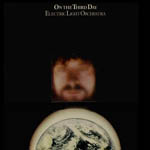 Delayed from earlier this year the first batch of remasters are finally here! Main man Jeff Lynne has been heavily involved both in the remastering and adding sleeve notes to each of the three albums.
Along with Lynne's comments you also get very informative sleeve notes from ELO archivist Rob Caiger along with many previously unseen photos.
After the band's first tow more experimental/progressive albums ELO's next album was 1973's On the Third Day, which although it kept some progressive leanings like 'Ocean Breakup/King of the Universe', Lynne was well on his way to penning the melodic classics the band became famous for like 'Ma-Ma-Ma Belle' and 'Showdown'.
Five bonus tracks on here including two alternate versions of 'Ma-Ma-Ma Belle' and for collectors Marc Bolan plays guitar on four of these tracks. Not an album for the fan of the classic ELO sound but highly recommended for the ELO fanatic! ***½
Eldorado came next, which has already been released a few years ago with bonus tracks, so next up is 1975's Face The Music.
Two big hits on this album were 'Evil Woman' and 'Strange Magic', the latter on the best ELO tracks in my humble opinion. Other treats on here include ELO meets punk on 'Poker' (well it is very fast paced!), the blissful 'Waterfall' and the instrumental mix of 'Waterfall', one of the four bonus tracks on this CD. ****
A New World Record released back in 1976 marks the first of ELO's five star releases in my book (next up were 'Out of the Blue', 'Discovery' and 'Time').
From the opening 'Tightrope' and its strings overload through to the mellow refrains of the closing track 'Shangri-La' there is not one filler track. Three big hit singles of this album - 'Rockaria!', 'Livin' Thing' and 'Telephone Line'.
Another good rock track was the reworking of the Move song 'Do Ya' - a real classic guitar riff on this one. Bonus wise there are six tracks on here including 'Surrender', a nice short pop ditty which strangely hasn't made it onto an album before appearing here. *****
These three re-releases are all a ELO fan could ask for and they are well worth adding to your CD collection. Can't wait for 'Out of the Blue'.
Review by Jason Ritchie