ELO The Harvest Years 1970-3 EMI (2006)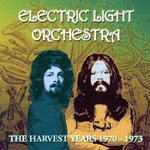 EMI don't half like releasing their ELO material in various shapes and forms. EMI only had ELO for the band's first two albums and these were much more progressive and experimental than the 70's hits that followed once Roy Wood left and ELO signed to Sony.
Indeed this version of ELO was a joint partnership between Jeff Lynne and Roy Wood (with Bev Bevan on drums) and the sound features much more cello and French horn than latter day ELO where the strings were much more melodic and less harsh.
ELO started out as a Move offshoot and the Move was kept going to produce hit singles to fund the ELO concept.
This three CD set just about covers it all featuring the two albums, the single versions released off these albums plus a host of demo and outtake versions. The early ELO is very interesting as the band had a much more progressive leaning especially on tracks such as the spoken word 'The Battle of Marston Moor' and the extended workouts on 'Roll Over Beethoven'.
Having said that you can see early signs of Jeff Lynne's hit single writing in '10538 Overture' (the guitar riff from this track was famously lifted by Paul Weller on his hit 'Changing Man' plus Def Leppard have just covered it) and 'Showdown'.
Many ELO fans will have these tunes as they have been released under various guises but this three CD set gathers them together nicely. A definate 'must have' for any ELO fan and fnas of 70's progressive music in general.
****
Review by Jason Ritchie
Track listing:
CD 1:
10538 Overture - Look At Me Now - Nellie Takes Her Bow - The Battle Of Marston Moor (July 2nd 1644) - First Movement (Jumping Biz) - Mr Radio - Manhattan - Rumble (49th Street Massacre) - Queen Of The Hours - Whisper In The Night
ELO First Album Sessions (1970-1971) - 10538 Overture (Take 1 Recorded 12/7/70) - The Battle Of Marston Moor (July 2nd 1644) (Take 1 Recorded 28/4/71) - Whisper In The Night (Take 1/Take 2 Edit Recorded 28/4/71) - Mr Radio (Take 9 Recorded 18/11/70)
CD 2:
In Old England Town (Boogie No 2) - Momma - Roll Over Beethoven - From The Sun To The World (Boogie No.1) - Kuiama
Harvest Sessions (1972-1973) - In Old England Town (Boogie No 2) (Take 1 Quad SQ Mix) - Roll Over Beethoven (Take 1) (Session Master 8 September) - Mambo (Dreaming Of 4000 Take 1) - Wilf's Solo (Instrumental) - Baby I Apologise (Session Outtake 1 June 1973) - Showdown (Take 1)
CD 3:
10538 Overture (Single Version) - Mr Radio (7'' Single Version) - Roll Over Beethoven (Single Version) - Showdown - In Old England Town (Instrumental) - The Electric Light Orchestra Alternate Album Mix - 10538 Overture (Quad SQ Mix) - Look At Me Now (Quad Mix) - Nellie Takes Her Bow (Quad Mix) - The Battle Of Marston Moor (July 2nd 1644) (Quad Mix) - First Movement (Jumping Biz) (Quad Mix) - Mr Radio (Quad SQ Mix) - Manhattan Rumble (49th Street Massacre) (Quad Mix) - Queen Of The Hours (Quad Mix) - Whisper In The Night (Quad Mix)
***** Out of this world | **** Pretty damn fine |
*** OK, approach with caution unless you are a fan |
** Instant bargain bin fodder | * Ugly. Just ugly