ELECTRONIC Get The Message The Best Of
EMI (2006)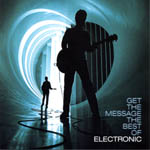 I can't say that the music of Electronic - Bernard Sumner and Johnny Marr - completely passed me by. But I never listened to their albums. Perhaps this was a natural resistance to some of my musical weaknesses at that time - a penchant for Love & Money, Johnny Hates Jazz and anything with a funky synth beat.
When Sumner, vocalist from hallowed Mancunians New Order and Marr guitarist from the equally revered Smiths, got together in 1989 it was to break out from their bands' respective musical straitjackets. No doubt Marr, in particular, was glad to be out from under the feet of that miserable git Morrissey.
Perhaps surprisingly, they melded accessible, glorious, melodies to club-based dance rhythms owing more to, say, Happy Mondays and Stone Roses, than their previous incarnations. As Marr says in an extensive liner note: 'We were a bit naive in thinking that we could put out white label tracks and pretend we were an obscure acid house outfit." It also gave Marr a chance to experiment with other instruments.
So, musically, Electronic came on the tail-end of eighties synth-pop, and as if to underscore their credibility in that genre, Pet Shop Boy Neil Tennant crops up on the first single 'Getting Away With It' and the tracks 'Patience Of A Saint' and 'Disappointed' (the latter also a single and featured here).
The debut album 'Electronic' (1991) was critically acclaimed and spawned several hit singles. By the time of their final album, 1999's 'Twisted Tenderness', there was a greater element of indie rock in the mix, produced by Arthur Baker.
This latest compilation is really a best of their singles but in limited edition form features a DVD with a handful of the band's promo videos. Completists may regret the no-show of some non-album tracks such as the early 'B' sides, the instrumental 'Lucky Bag' and 'Lean To The Inside' and the later 'Free Will' and 'Radiation'. But we do get 'All I Need' (featured on the single 'For You') and 'Imitation Of Life' (originally on the 'Forbidden City' single).
With several current bands re-exploring the eighties (for example, Captain) and several eighties bands re-inventing themselves (cue Duran Duran), this immaculate collection is a really good place to start exploring the sometimes maligned genre of electro pop. And out from the shadow of their previous bands, Sumner and Marr are seen to be a fantastic partnership with a masterly grasp of classic, uncomplicated pop.
****
Review by David Randall