Just witnessed your best live gig?..send us a review!
ELEANOR McEVOY
Alezxanders Jazz Theatre 25 April 2005
Diva of the Deva...
In the hours of darkness, under the shadow of the tower of Chester Cathedral, we were cast under the spell of someone wearing an outfit which was predominantly black with a flash of red. That person comes from Clontarf, North Dublin, the same district as Bram Stoker....Dracula's Creator.
Entranced, we certainly were. But the sinister stuff stops there because the person dressed in black and red was Eleanor McEvoy.
My personal 'count' of Eleanor concerts now numbers eight. Having got my teeth into that many,you would be forgiven for thinking that familiarity breeds contempt, far from it. In fact, this just had to be the best Eleanor concert that I've witnessed.
On entering Alexanders the first thing that we noticed was the electric guitar to accompany the two instruments which she brought with her on the last tour. It's mere presence had an immediate effect. Without playing a note it was helping us pass waiting time by trying to guess which of her songs would see her playing it.
In the lead up time, the gathering steadily grew in number as was the volume of their talking. Fears of a repeat of the Liverpool gig were immediately allayed when Eleanor arrived on stage at around 9:30.
From the moment she asked "Howya doin?" the crowd of around 80 people were paying their fullest attention to the opening song, Leaves Me Wondering from Yola.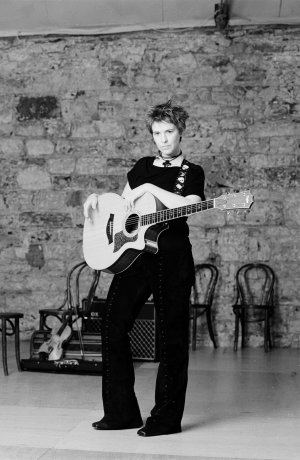 Mention Eleanor McEvoy to those who know her and get them explain what she does then the immediate reply would be a top class folk singer and songwriter who plays acoustic guitar and violin. What they might forget to mention is that her guitar playing is just so bloody good.
With the usual top class guitarist there sometimes comes the snarling face which is given to try and enhance the effect. However, in Eleanor's case, she makes guitar playing look effortless.
Of her opening three songs there were 3 succinct styles of acoustic backing. Rhythmic and pronounced on Leaves Me Wondering, melodic on Whisper a Prayer and dreamy with You'll Hear Better Songs.
I had just got myself enveloped in this fascination with her acoustic guitar playing. I was thinking that an Eleanor acoustic-only album would be a good idea (please release the acoustic only version of The Rain Falls by the way ) when out came the electric guitar for Territory Of Poets. The electrics stayed with us until the interval. The bluesy song, The Way You Wear Your Troubles leaves me high on praise and short of original descriptives.
At the top of part 2 attention was drawn to the Fathers 4 Justice protestor in Chester with Memphis Tenessee.
The violin made it's appearance for Driving Home from Butlers and just when we were expecting things to drift into the footstomping gig, a new song crept in. But it wasn't just the song that raised the eyebrows. The way in which the violin was played, tapping the bow on to the strings, really effective.
The end came all too quickly and for all her exceptional instrument work she closed with a superb voice only rendition of Stray Thoughts.
To add to the enjoyment the audience were so appreciative and attentive, this didn't escape Eleanor's notice when she gave heartfelt thanks in return. I've never felt so high after an Eleanor live performance...and I've never felt so hungry for the next one either.
Chester Setlist
1.Leaves Me Wondering 2.Whisper A Prayer To The Moon 3. You'll Hear Better Songs (Than This)
Superb acoustic guitar backing to this one - it's her latest single.
4.I'll be willing 5. The Rain Falls 6. I Hear You Breathing In 7. Territory of Poets 8. Love Be Cool 9. The Way You Wear Your Troubles
(Interval)
10. Days Roll By (a recent single played on Wogan) 11. Memphis Tennessee 12. Easy In Love 13. I got you to see me through 14. Driving Home From Butlers 15. Wrong Wrong So Wrong
(....just to show that there is more than one way to play a violin)
16. the footstomping violin tune which might be called Paddy Carthy's Reel 17. Did You Tell Him
(just fascinating watching her play guitar on this one using the third finger left hand to combine a melody with the infectious rhythm)
18. Isn't It a Little Late 19. Only A Woman's Heart
(Encore) 20, Stray Thoughts (Voice only)
Review: Graham Ashmore