EILEEN ROSE 'Come The Storm' Banana Recordings (2005)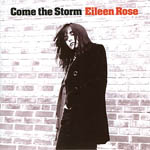 Come The Storm is singer-songwriter Eileen Rose's third solo album. And like its predecessors - Shine Like It Does (2000) and Long Shot Novena (2002) - is receiving widespread critical acclaim.
So who the hell is Eileen Rose? Boston born, of Italian-Irish extraction, Eileen followed her dream of rock stardom to the UK where her records and performances have wooed the public and critics alike with plaudits such as 'brilliant', 'sensational', 'mesmeric', 'shining', 'stunning' and 'formidable'.
Yet still she remains a relative unknown. Perhaps, as a result of not fitting neatly into any genre. Previous outings have been filed under alt-country, but could have been equally at home under rock. Come The Storm is her first album recorded on home soil – 9/11 having been a calling card to return to her roots.
Last New Year's Eve opens with electronic murmurings over acoustic (a la Pink Floyd) before bursting into an up tempo a number reflecting on a broken relationship and sounding like Kirsty MacColl fronting the E Street Band.
Never Be The Same is another reflective number (it's a fairly common theme throughout the album) about yearning for the bad times because they make you appreciate the good times. This time it's light pop with effective use of wurlitzer and accordion.
Stagger Home slows the pace and ventures into Maria McKee alt-country territory. Eileen's voice is wonderful and again there's some tasteful accordion.
Ocean Of Fire is a highlight – written for, but not used in the move Hidalgo – a quite beautiful piano led ballad with haunting vocals. Nothing But Blue maintains the quality control on maximum – a brooding torch song about the search for faith. Eileen's vocals are again magnificent – smouldering, emotive and pleading.
Saffron and Ginger slows the pace - another reflective number about the doubts left by a broken relationship. Staying In raises the bar again - a glorious smouldering late night blues number and another highlight.
Compass is Pink Floyd inspired, but I don't really see it. It's a piano lament and has a discordant sixties sort of 'feel' – almost Nilsson - but that's about it. White Wave is an up tempo rockabilly number and before you know it Time To Go – another emotive piano / harmonica ballad with a west coast feel brings the album to a close.
Intentional or not, Come The Storm comes across as an album about homecoming – contemplative and reflective, yet rejoiceful and taking the good things, even from the bad times. About how the present and future are built on the past. It's an eclectic mix of styles underpinned throughout by some great vocal performances and it makes a refreshing change to hear a female singer-songwriter who doesn't sound like yet another marionette off the 'get rich quick' female singer-songwriter production line.
Come The Storm is a work of inspired beauty, quite unlike anything else you'll hear this year and a strong contender for album of the year.
****
Review by Pete Whalley