VARIOUS Pure 80's No.1's Universal (2006)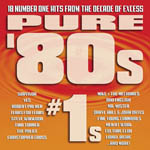 A few questions cross my mind over this compilation. First off, in these days of downloads and CD burners many people must now surely make their own compilations up? Also who compiles these things?
There are some cracking tunes on here (all the songs on here have been a US number one in the 80's) but why is Lionel Richie and Culture Club on here at all? They don't suit the mainly AOR/melodic rock selection elsewhere on this CD. You've got the great ballad by Bad English 'When I See You Smile', Yes's catchy 'Owner of A Lonely Heart' and 'Kyrie' by Mr Mister.
Eighteen tracks in all and on the whole good songs (well depending on your taste as I am sure someone must like Culture Club!).
Good fun and maybe one for the car stereo.
***½
Review by Jason Ritchie