EDGAR BROUGHTON BAND Reissues Eclectic (2006)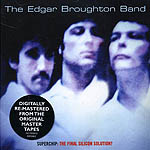 Released in 1979, a decade after their debut, and strangely credited to The Broughtons, Parlez-Vous English (Electic ECLCD1034/SPV305062 (37:17)) is a strange album.
The Broughton brothers started out more a blues rock band (which comes through it fits and starts here), successfully too, so when they bowed to the then musical scene and went all new wave, it raised a few eyebrows. Equally, it opened few wallets and the album failed to chart; no surprise as it is very different.
There are elements of Brian Eno and Brian Ferry, and while Meglamaster has a more an uptempo rock'n'roll feel, it was all too modern. Didecoi sounds like Talking Heads. Excellent music, just different and out of place. Guitarist / vocalist Edgar is on solid form, and drummer brother Steve provides some decent rhythms. ***
1981's Superchip (Electic ECLCD1035/SPV305072 (55:47)) was a political concept, with Orwellian overtones. Musically a development from Parlez, it's modern for the period and slightly less new wave, making it more cohesive. A bold statement that is thoroughly enjoyable, although sounding far more electronic than the band's 70's releases.
Well packaged, and long overdue on CD, essential for fans but hardly classic EBB. ***
Review by Joe Geesin