ED HARCOURT This Beautiful Lie
EMI/Heavenly HVNLP55CD (2006)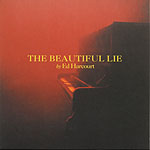 This new album kicks off with the Whirlwind In D Minor, an uptempo guitar led singer/song writer affair with piano, drums and some neat guitar effects. Some strong yet whimsical vocals add to a decent sound.
Visit From The Dead Dog mixes 60s with 80s indie pop, and The Last Cigarette is acoustic; you get the idea.
The album as a whole fits in nicely with the current fashion for folk guitar-led pop that doesn't quite conform to one banner of folk, pop, rock or indie.
Revolution In The Heart has a big production sound, and others appear with strings.
Good for what it is but a little dreary. Pop and Passable.
**½
Review by Joe Geesin