EARL SLICK 'Zig Zag' (Sanctuary) (2003)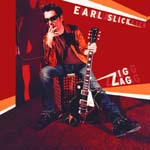 For several years now, Earl Slick has been the mainstay guitarist in Bowie's band, and has been touring recently with the man on his 'Reality' tour. Slick also found some notoriety as guitarist for John Lennon on 1980's 'Double Fantasy'. Never less than the consummate professional, his solo albums are few and and far between: 'Zig Zag' is his first for 12 years.
Perhaps the main interest will be one track with his current paymaster on vocals 'Isn't It Evening', and it's a good one too. There are also vocal contributions from Robert Smith of The Cure (Believe), Martha Davis of the Motels (Yes, what ever happened to them?) and Joe Elliot of Def Leppard. The title track, though, with Royston Langdon of Spacehog robs the Thin White Duke's 'Golden Years' riff.
Slick's instrumentals (there are four on the album) demonstrate his ease with a variety of styles, from the straight-ahead opener 'Dancing With Eleanor' through '1735' which has a contemporary dancebeat groove and an almost Pink Floyd-ish bridge, to 'The Cat' which has a retro feel about it and no doubt gained inspiration from the sixties music he grew up with: a 'fucked-up spaghetti western-sounding song' is how Slick describes it.
According to Bowie: 'Earl is a legendary guitar star and a musician of great feeling .His playing is earthy,timeless and never less than stellar.' This perhaps accurately sums up 'Zig Zag', but with an appeal to a general listener not just the Bowie fan. I just wish someone had told Slick that album length expectation has moved on since 1991, and just 44 minutes is a bit of a no-no.
****
Review by David Randall
Believe
© 2003 Earl Slick/Sanctuary. All rights reserved.


£12.99