THE EARL SCRUGGS REVUE 'Anniversary Special Volumes 1 & 2'
GOTT (2005)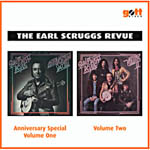 Earl Scruggs – banjo player extraordinaire. Bluegrass pioneer. A legend.
Here we have two mid-seventies albums remastered onto one CD. Even so, it's a bit of a shock to find the running time is still only 66 minutes!
Earl was in his early 50s when these albums were recorded and, having pushed the boundaries of bluegrass just about as far as he could, was looking for a new challenge. The result - The Earl Scruggs Review - teaming up with his hippie sons and a host of guests – many from the rock world. To name but a few – Joan Baez, Johnny Cash, Leonard Cohen, Charlie Daniels, Billy Joel, Alvin Lee, Roger McGuinn, Kenny Messina and many more.
Banjo Man is, as you might imagine, finger picking good with support from, amongst others, Jim Messina, Kenny Loggins and Jim Keltner. Gospel Ship has vocals from a cast including Joan Baez and Johnny Cash and Loudon Wainwright III. Bleeker Street Rag is an almost Benny Hill/Beverley Hillbillies number featuring Alvin Lee, Billy Joel and Roger McGuinn. Royal Majesty a gospel 'choir' of Tracey Nelson, The Pointer Sisters, Joan Baez, Bonnie Bramlett and Charlie Daniels. Rollin' In My Dreams has echoes of Dylan.
The constant throughout is Earl's banjo playing. The supporting cast come and go and it was clearly a labour of love for all concerned. An opportunity to explore roots and beyond. And make no mistake, this isn't a country album – it's blues, gospel, folk, country and rock. Instrumental In D Minor is magnificent – it sounds like it was recorded yesterday and wouldn't be out of place on an Alison Krauss album. Every Man Has Got His Own Price a Tom Petty blueprint.
I don't think this is going to win Earl too many new fans. But the playing is throughout is wonderful, the production is first rate and it's a veritable feast of late 60's superstar doing what they did best. Well worth exploring.
****
Review by Pete Whalley

Banjo Man
© 2005 Gott Discs. All rights reserved.