Blowing more than socks off...where Phat is where it's at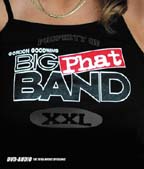 Gordon Goodwin is, by all accounts, acclaimed in jazz / big band circles as something of a genius. Firstly, as a writer, arranger and producer. And secondly for having the 'pull' to attract LA's finest session musicians, such as Michael Brecker, to the party.
Well, let me nail my colours to the mast. The word 'jazz' (unless it happens to be in the same sentence as the words 'Katie Melua' or 'Norah Jones') normally has me reaching for the sick bag. And I was once foolish enough to buy a Brecker Brothers album in a sale (big mistake!). So, all told, I wasn't looking forward to reviewing this.
But, to put it simply, Gordon Goodwin's Big Phat Band XXL is the best DVD-A I have ever heard. It's quite breathtaking. The playing and production is outstanding - if you ever want a disc to demo your latest 5.1 surround sound system, this is it - it will blow your socks off, stuff them down your Y fronts and shout 'how's that for a phat one?!'
And it comes with a veritable host of wonderful extras that put all other DVD-A's in the shade - commentary on every track by Gordon, multi-angle and behind the scene videos, solo transcriptions, photo gallery and a 'Make Your Own Mix' feature which allows you to pick and hear the mix of specific instruments on three tracks. Brill!
OK, jazz/big band never has been, and never will be, my thing. But there's no getting away from it, this is exceedingly impressive stuff. Why can't all DVD-A's be this good? (Silverline) ****.
Review by Pete Whalley