The album that U2 should have made...and some Romantic power pop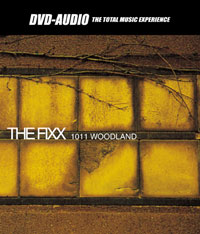 The Fixx (1011 Woodland) is an album which will bring a smile to the face of every U2, New Model Army and Joy Division fan.
The Fixx are not the new kids on this block. The band released their first album 'Shuttered Room' in 1982, an album that contained great songs like 'Stand Or Fall' and 'Red Skies'.
The bandís album was hosted in the US charts for more than a year, something that came as no surprise to the people acquainted with the bandís music. A year later the band released 'Reach the Beach', another magnificent piece of work. The album soon became platinum and the bandís name became synonimous with sucess. Two really good albums followed, 'Phantoms'(1984) and 'Walkabout'(1986), before the band decided to make their sound a bit harder. The first product of the bandís 'new' direction was 1988ís 'Calm Animals', and was followed by 1991ís 'Ink', 1998ís 'Elemental' and 1999ís '1011 Woodland', which we are presenting here.
It was a rainy Sunday afternoon when I decided to listen to this Audio DVD. I made myself a nice cup of tea and pushed the Ďplayí button. My instant reaction was surprise, as I thought that I was listening to something quite familiar, but yet totally unknown.
'1011 Woodland' is the album that U2 should have released after 'Rattle And Hum', and thatís meant to be a compliment. I donít believe that there is a single New Wave band that was not influenced by the great Irish/American quartet: the question is how many of these bands have added their own character to the music they chose to serve?
'1011 Woodland' is an album that will reach to the very bottom of your soul. All you have to do is relax and let the music perform itís miracle. I refuse to select a song from this forteen track album, simply because I believe that '1011 Woodland' should be appreciated as a concept album.
This Silverline release features a 5.1 Surround Sound, a song by song Artist Commentary, photo gallery and videos including tour footage, behind the scenes and many more.
We all deserve a little gift from time to time. Give yourself one - itís called '1011 Woodland'. (Silverline Records,2003) ****
How many bands do you know that combine the true spirit of Rock níRoll with a melodic pop sound and a bit of Punk Rock attitude? This could have easily been one of the questions in Trivial Pursuit! The answer is - The Romantics.
The band was formed in late 1977 by Wally Palmer (vocals/guitar), Jimmy Marinos (vocals/drums), Mike Skill (guitar) and Richie Cole (bass). This line-up recorded their same-title debut album in 1980. The bandís unstoppable creativity led them to record a second album that same year called "National Breakout". It was not until 1983, though, that the band became really popular. Mike Skill was replaced by Coz Canler, and the band released their best selling album called "In Heat". With the help and support of the Radio and the Media (MTV in particular), the album became gold in just a couple of weeks. The band of course did what they knew best - went on tour.
From the Front Row...Live,(Silverline Records, 2004) is the bandís performance in San Antonio, on October the 30th 1983. The quality of the recordings is really good, the band is in a really good mood which is probably due to the general enthusiasm of the crowd. I am not a huge fan of this kind of music, but I have to admit that I had a really good time listening to this Audio DVD.
There are also quite a few songs which I managed to recognise in my ignorance, like "Talking In Your Sleep", "Tomboy" and the MTV favourite "What I Like About You".This audio DVD has a high-resolution 5.1 Surround sound which will help you enjoy the bandís quality performance even more, a speaker setup section and a bunch of really interesting photos.
Even if youíre not the biggest fan of this music, I suggest you check out this Audio DVD. You never know, a Romantics fan may be hiding inside you.***
Review by John Stefanis