Rather interesting if you read the small print of Ziroq's album (Silverline 288067-9). The band list under "Inspiration": Ritchie Blackmore, legendary Motown bassist James Jamerson, Carlos Santana and...Dave Gilmour. An eclectic bunch, certainly, but you can't hear much of their influence on this CD unless of course the Pink Floyd guitarist has taken up with the Gypsy Kings.
This is world music that melds South American and Arabic influences, and for the most it is sung in Spanish. The standout tracks are sung in English: the simply superb 'Closer To Me' just needs a snatch of Santana guitar to make it as hot as the Costa del Sol. 'Contando Cacahuetes' and 'Voices' are persuasive ditties that if heard on summer radio would leave you desperate for the back announcement. The intense instrumental 'Patio del Moro' has Turkish influences and is damned infectious - a certain showstopper if played live. Another instrumental 'Nomad' is also very attractive and for a moment you could almost be looking at that setting sun, downing that last wine, and wondering what might have been.
This DVD-A includes a host of goodies including scrapbook, video footage and interviews. Fronted by the charismatic Marcus Dand (who speaks like a Londoner but was raised in Andalucia) who also writes the material with bassist Carmine Rojas, Ziroq are as hot and tasty as a summer barbeque. In the midst of an English cold snap is not the best way to listen to this album. Warmly recommended. ****
Closer To You
© 2004 Ziroq/Silverline. All rights reserved.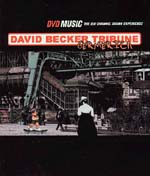 Guitarist David Becker may not have achieved the adulation afforded to contemporaries such as Robben Ford, Larry Carlton or Lee Ritenour but on 'Germerica' (Silverline 288044-9) he can certainly hack it. Mixing jazz notes and hip hop grooves, lovers of well played fusion will take their place in the queue here. The second track 'Come In And Find (A Better Understanding)' is magnificent, with a lovely shuffling beat punctuated by Becker's story-telling guitar.
Solo fusion albums can sometimes get overblown, especially when as in Becker's case one person is responsible for much of the instrumentation and production. Becker handles it all with consummate good taste and the secret is in his very high quality compositions. Becker, unlike some fusion heroes, doesn't concentrate on technical prowess or more-notes-per-minute, although he is surely capable. Instead, his music has a lyrical and reflective quality that makes his proposition compelling. This DVD-A with Gary Lux's midas touch on the mix includes a video and informative artist commentary. Definitely worth a visit, if jazz fusion is your cup of latte. ****.
Come In And Find (A Better Understanding)
© 2004 David Becker/Silverline. All rights reserved.
Review by David Randall