DREAM EVIL 'The Book Of Heavy Metal' (Century Media) (2004)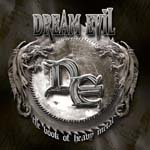 METAAAAAAAAAAALLLLLL!!! Not my words, but the intro of vocalist Niklas Isfeldt to any of you who have any doubts left as to what Dream Evil have to offer. This is Heavy Metal, Ladies and Gentlemen, and may all Wimps and Posers kindly oblige by not reading on. Indeed, if you think that Manowar is still the best Heavy Metal Party music, then you are gravely mistaken - all you need is this fantastic collection of Metal Anthems and Ballads to sing-along and raise-your-fists-in-the-air-to.
Personally, I've never been a huge fan of cheesy music, but somehow, Dream Evil have managed to create an album that is both enjoyable and hilarious at the same time.
Although I can't imagine that anyone would doubt Dream Evil's sense of humour after listening to the opening track, 'The Book of Heavy Metal', if you're still sitting on the fence as to the intentions of the band, all you need to do is to skip forward a few tracks to the mysteriously named M.O.M, in which Niklas challenges all die-hard Metal Fans: 'Are you a Man or a Mouse???!!!!!'. Fantastic.
Lyrically, if you can't find a Heavy Metal term or definition on this album, then it's definitely not worth knowing. In fact, the majority of our beloved clichés can be found on the first track: here are mentioned everyone and everything from Metal Gods to Evil Parents and The Devil, from Skin Tight Leather to Metal Studs and, of course, the obligatory Guitar - the weapon of choice for all self-respecting True Metalheads.
To get back to the album, though, you will find that most of the 80s Metal sound has been 'covered' in one way or another to delight us all. 'Into the Moonlight' is a typical melodic German Power track, reminding me of Helloween, 'No Way' - a great rock tune and 'Crusader's Anthem' has that slow, obligatory pace any self-respecting Crusader would have moved at (just ask Saxon!).
'Unbreakable Chain' is a typical 80s power ballad, the likes of which, if I might say so, have been greatly missed and, finally, the heavy chugging guitar and measured pace of 'The Sledge' are a great tribute to Halford, as is 'Let's Make Rock' and 'The Mirror'. In fact, apart from sounding like the Scorpions, Pretty Maids, Helloween, Accept, Europe and a host of other Heavy Metal Defenders of the Faith, Judas Priest are probably the biggest influence of all on the band, not least on Niklas' vocal style and Gus G's guitar exploits (the latter has, according to recently acquired information, left the band to see where the grass is greener or, perhaps, where the Metal is more Heavy, if that is at all possible). The sad thing is, though, that this album has absolutely nothing innovative or surprising to offer to today's music scene.
Dream Evil are definitely a worthy support act to Saxon when they join them on tour in October 2004 and I will eagerly await their appearance on stage. I wonder what the dress code will be? Maybe we should all watch Gloves of Metal before attending, for some fashion tips!
Anyway, are Dream Evil 'To be - or not to be' in the Book of Heavy Metal? Possibly not, but this is definitely an enjoyable album and one to play to all those who can appreciate Heavy Metal and like having a bit of a laugh. I re-iterate: this is The Best Heavy Metal Party Album….Ever!
(NB: The excessive use of capitals in the review was obligatory!)
***
Review by Emily Dgebuadze
Related>>Interview