DREAM ARIA (2005)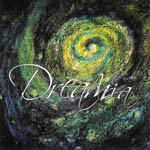 It's a packed world out there in goth world, but now I am happy to present a new hybrid – progressive goth!
And Canada's Dream Aria are the ones to have accomplished this. Donald Stagg (composer, lyrics, keyboards, arranger, producer), Garry Flint (drums, bass, engineer), Jozef Pilasanovic (guitar, bass, vocals, flute) and Ann Burstyn (vocals, lyrics, vocal melodies) have managed to create something new and interesting – a rare accomplishment.
They claim their "mission will continue to be to create music without rules or boundaries that take you on a far away journey." And so far, their mission has been a success as they cleverly combine classical music, progressive rock, classic rock and goth.
Their secret weapon is vocalist Ann Burstyn who has an incredible range and variety of vocal styles. Which, of course, would be nothing without the songs to go along with it. Being an old school rocker I was drawn to the more immediate tracks like "Sungoddess" which drips with classic melodies and guitars. But as time passes, and the CD gets played more, it's the more otherworldly numbers that drag you back in.
The title track "In The Wake", which is in two parts, "Soul" and "Body" is a prime example. "Soul" weaves different cultural strands and textures before the powerful classic rock "Body" comes along to capture you.
Elsewhere, there are some intriguing avant-garde moments, as on "Pacis", an almost dance number drenched in what I will assume are Latin operatic vocals. Shouldn't work but it does.
It takes a lot to impress me these days, but Dream Aria have created an absolutely fascinating album.
****
Review by Stuart A.Hamilton
Spirit
© 2005 Dream Aria. All rights reserved.