DR.FEELGOOD Down By The Jetty - Collector's Edition
EMI 363951 2 (2006)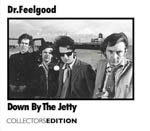 Dr. Feelgood still tour Europe relentlessly to this day, but back in late Summer of 1974 the original ground breaking line-up changed the course of contemporary music by recycling old wine in new bottles - in this case reawakening the old blues genie.
The fact that hyperactive guitarist Wilko Johnson emerged as a prodigious song writer was a major bonus leading Canvey Island's finest to the top of the album charts and ultimately to the USA, home of the band's generic music. For Dr. Feelgood were basically a latter day Stones come Yardbirds adding their own magic to music with a timeless longevity.
Historically their significance was two fold, firstly providing a bridge between the overblown Rock orthodoxy (via Pub Rock) and the nascent Punk Rock scene, and secondly employing a back to the basics stripped down approach while blasting out their passionate high octane r&b in sweat filled pubs, clubs and later in dance halls.
Better still the unrelenting energy provided by the metronomic Mick Green style licks of guitarist Wilko Johnson were fuelled by a mix of Bo Diddley beats and recycled Rock & Roll. This unlikely take on the blues was afforded the perfect foil by the Howlin' Wolf style growl of Lee Brilleaux and was underpinned by the unfussy but rock steady rhythm section of drummer The Big Figure and bass man John B. Sparks.
The big bonus of course as evinced by this album is that Wilko matched the feverish intensity of his playing with a handful of killer songs including the staccato 'She Does It Right', the cutting edge R&B single that was 'Roxette' and the caustic 'Keep It Out Of Sight'. The bonus tracks on disc one include best of the band's r&b covers such as 'I'm A Hog For You Baby' and 'Stupidity'.
However, not everything has stood the test of time and although the concept of a stereo remix of disc two provides an unlikely extra dynamic, limp covers such as 'Boom Boom' don't hold up to clinical studio scrutiny while the plodding 'That Ain't The Way To Behave' was to become a mediocre template for Wilko's post Dr. Feelgood solo career.
But the whole Feelgood phenomenon was always about inspired live shows and taken as a whole, this collector's item complete with great photo's, knowledgeable liner notes by Will Birch, and 16 bonus tracks is an excellent reminder of how Dr.Feelgood single-handedly made rhythm and blues fashionable again.
***
Review by Pete Feenstra