DONOVAN Sunshine Superman EMI (2006)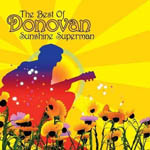 So what of effervescent Mr Leitch? Well there's probably not a lot to add to what you'll already know. A veteran of five decades, he's still got a very faithful following and continuing to put out new and very valid material - 2004's excellent Beat Café, for example.
While he's stayed true to his basic style as a folk troubadour his most memorable numbers reflect his folk beginnings and his 1960s flower power period. A singer songwriter of some considerable talent and capable of delivering a divers range of styles from the sparse protest-folk of Universal Soldier, the smoky jazz of Sunny Goodge Street, the psychedelia of Hurdy Gurdy Man, and the easy listening pop Mellow Yellow.
But the 1960's was Donovan's peak of commercial success which saw him collaborating with and befriending many of the great musicians of the time including The Beatles, Bob Dylan, Joan Baez, The Mamas and the Papas, The Animals, Jeff Beck, Ron Wood, members of Led Zeppelin, and Alice Cooper.
If you're a Donovan fan you've probably got many of his releases and the boxed set - which covers 1964 to 2004 and includes 60 re-mastered tracks (15 of them previously unreleased or hard to find) is well worth hunting down. If you've got a casual interest, pick up a Sunshine Superman and go to see him if he plays a venue near you - you could be pleasantly surprised.
****
Review by Pete Whalley