DONALD FAGEN Morph The Cat
Reprise (2006) Release date 07.03.06 (USA) 13.03.06(UK)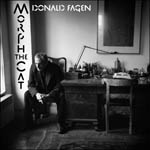 I know, it's awfully uncool to admit you like a Donald Fagen album. Maybe I'm suffering from post-Steely Dan crisis.
The erstwhile Dan co-founder, 'voice' and keyboards player is back with only his third solo album. In 1982 it was the critically-acclaimed 'The Nightfly', in 1993 'Kamakiriad'.
'Morph The Cat' has Steely Dan written all over it, from the moment you hook into the title track groove with a wonderfully insidious rhythm, you are on sure and safe territory.
If there is one criticism of Fagen's work, and it's an awful gripe to have really, the songs are so damn well crafted lyrically and musically that you can't help thinking he exists in some sort of perfect vortex. Consequently, the songs can sometimes come over as a tad clinical and predictable.
Thankfully, 'Morph The Cat' is pretty much a tough funk groove from start to finish and the players are allowed a good blow, more than on previous workouts. Wonderfully tight playing, as ever, from such luminaries as Hugh McCracken,Wayne Krantz and Freddie Washington but - this time - no Walter Becker. The engineering is terrific, too, from Steely Dan cohort Elliot Scheiner.
The first single 'H Gang' has that shiver-down-spine tingle of Little River Band's 'Night Owls' but the chord shifts and horn interjections are pure Dan, 'What I Do' could equally be a single, whilst 'Brite Nitegown' has funk of Prince-like proportions.
'The Great Pagoda of Funn' and 'Security Joan' are mid-tempo with jazzy trumpet and bluesy guitar figures, especially on the latter. 'Mary Shut The Garden Door' is another cool vibe with tight wordplay and harmonica Stevie Wonder would have been proud of in classic 'Inner Visions' era.
Whether 'Morph' will be successful in the durability stakes is another question, there is a possibility that you will never play it again after the initial excitement. I'm afraid I felt a bit like that with 'Kamakiriad'. For the moment, though, this is funky as hell, and I am totally uncool.
*****
Review by David Randall