DIVING FOR PEARLS 'Texas ' Atenzia (2005)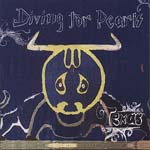 In a sense, there is a lot riding on this release, the first from Diving For Pearls since 1989's eponymous album. As we have reported in GRTR! that album has become something of a cult amongst the cognoscente: full of uplifting melodic rock with a smattering of killer tracks.
With only vocalist Danny Malone and drummer/producer David Prater remaining from the original line-up there has been an attempt to 'update' the DFP sound.
It has to be said, though, that 'Texas' reveals nothing that you couldn't hear on countless other melodic rock albums either now or in the 1990's.
I gather that the band have tried to remain faithful to the 1989 classic, but have been open to modern touches. This isn't that obvious. Overall, you can't help feeling that they should have stuck with the more upbeat and urgent stuff, there's simply not enough of it. It's a case of come back Yul Vasquez, all is forgiven.
With the lack-lustre opener 'Thinking About Things That Will Never Be' out of the way, 'I Thought About You' has that necessary urgency and a neat time change and is one of the standouts.
The band do power ballad very well, and 'I Will Get Over You' is excellent. 'Lonely Is The Dark' rocks nicely, the sort of track that Foreigner should have performed more often.
But everything else could have appeared on a Bon Jovi album c.1986. More worringly perhaps, there are echoes of the secret musical roots of the band: Badfinger c.1974 come to mind, themselves heavily influenced by the heavier beat music of the Fab Four. If you want confirmation of this, check out 'The Sweetest Sin', 'Stop The World From Turning', and the main verse of 'Heaven Only Knows'. Is this 'Norwegian Wood' or what?
Of course, there's nothing wrong at all with Badfinger, I just wasn't expecting their presence on a DFP album.
This is one of those albums that I had high hopes for. It doesn't totally disappoint but - sadly - it's more likely to make you reach (or try and reach) for the melodic rocker's holy grail, that classic debut album.
***
Review by David Randall
Feature
I Thought About You
© 2005 Atenzia Records. All rights reserved.