DIO Holy Diver Universal (76:19)(2005)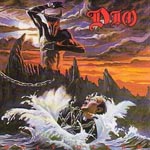 It is rare that a debut album becomes such a classic, a milestone. In this case, original Rainbow singer Ronnie James Dio, fresh out of Black Sabbath, managed it, with a young band and a major label deal.
This long overdue reissue of that 1983 classic, is nicely timed to coincide with the UK tour to celebrate it.
Dioís voice is metal class with high range and a lot of power, as the epic title track shows.
The rhythm section of Rainbow bassist Jimmy Bain and Sabbath drummer Vinnie Appice is solid, keyboard player Claude Schnell fits in well and guitarist Vivian Campbell is quite literally as electric here as he would later be with Def Leppard.
Stand Up And Shout, Rainbow In The Dark and Donít Talk To Strangers are all no-nonsense metal must-listen tracks.
Decent sleevenotes too, and instead of filling the CD up with B-sides, thereís a specially recorded interview with Dio.
Rarely is an 80s metal debut such essential listening.
*****
Review by Joe Geesin