DEZPERADOZ The Legend And The Truth
AFM 121-2 (2006)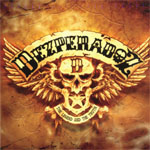 Western metal, a concept album that tells the album of Wyatt Earp, the album kicks off with Dust Of History, a heavy trad metal number verging on thrash with a catchy riff. Deadman Walkiní is more western, abeit too heavy for western theme tune but itís heading in that way.
The twin guitars of Alex Kraft and Dennis Ward work great, and then production does give a good western feel in places. Expect the band to come riding in on horseback!
The cover of Rawhide is brilliant, and given a real pair of balls too. The one track to download.
The rest of the album isnít quite as good, maybe a tad inconsistent. About half passable and half brilliant. Nice concept though.
***½
Review by Joe Geesin
Dust of History
© 2006 AFM. All rights reserved.