DEVIL TO PAY Thirty Pieces of Silver (Benchmark Records BM5213)(2004)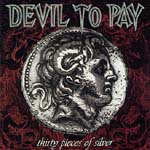 Although classed as stoner-doom rock, this CD from Indianapolis rockers Devil To Pay may appeal to die-hard rockers who remember well the art of the simple riff and wah wah guitar.
With precision, robust, and frankly damn infectious riffs-to-go, this could almost be seventies Welsh rockers Budgie teleported to the millennium. The only thing missing is that band's creative song-titling and Burke Shelley's distinctive scream.
Budgie were themselves influenced by production stablemates and architects of doom metal Black Sabbath, and Budgie influenced Metallica who feature their songs. The vocals on this CD are nearer Metallica, but the riffs are pure Budgie grunged up for modern tastes.
Metal heads will find this appealing, die-hard rockers may well feel things have come full circle. Enjoy. There is hope for us yet.

Band website
****
Review by David Randall
Lowest Common Denominator
© 2004 Devil To Pay/Benchmark Records. All rights reserved.