DERRIN NAUENDORF The Rattling Wheel
Rising Records DN06 (2006)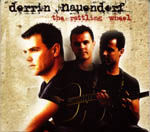 Derrin Nauendorf is a talented singer songwriter with a vocal style not unlike Ben Harper and penchant for deeply felt love songs built around a nice line in metaphors. But at best 'The Rattling Wheel' is a slow burner with a handful of excellent songs and a whole lot more that show real promise.
And although this is a band outing you get the feeling that Derrin is essentially a solo performer who has partially succeeded in utilising his musical accomplices to their maximum potential Thus on the opening 'Universe Demands', a repeated guitar phrase lies at the core of a dynamic arrangement that cleverly accentuates his lyrical intent to the full.
Double bass player Rick Foot sympathetically underpins many of Derrin's finest moments, including the love ballad 'I Won't Turn My Back' and one of the album's stand out tracks, 'Shipwrecked'. And while the chorus 'Better to be shipwrecked, better to be shipwrecked, better to be shipwrecked, than never sail at all', may not be the most original metaphor, Derrin generates enough passion in his vocal performance to convince even the most reticent listener.
On 'Where Two Men Go Tonight', a climactic tale of a lover's revenge, Ron Singh contributes a mournful harmonium as Derrin adds a Dylanesque feel to his phrasing. The song has echoes of a sea shanty with a Celtic feel and gives Derrin the opportunity to ascend the vocal register to great effect.
He is equally impressive in the more laid back context of 'The Reason You Came Here' and the following angst ridden, Ben Harper influenced 'My Hurricane'. The latter builds up feeling of real intensity on the back of a dazzling combination of acoustic guitar work and a full band work out, and suggests Derrin is a songwriter of real substance. Better still, is the dazzling radio friendly 'Long Road Home', complete with some flighty acoustic guitar work. This is a number that will surely stand at the core of Derrin's live set for years to come.
As I said 'The Rattling Wheel' is a slow burner, but with repeated plays and plenty of gigs Derrin Nauendorf will soon be an artist of serious consideration. But for the moment this album is an excellent starting point to a song writing career that promises much more to come.
***½
Review by Pete Feenstra
© 2006 Rising Records. All rights reserved.