DEREK SHERINIAN Blood Of The Snake
Inside Out (2006)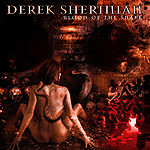 It may be true that it was his participation in the Dream Theater team that made the name of Derek Sherinian popular to the masses, yet his contribution to progressive rock/metal music continues to be equally consistent and important through various projects.
It seems though that since 2001, Derek has been more focused in his own band, releasing good quality albums such as "Black Utopia" (2003), "Mythology" (2004), and this year's "Blood of the Snake".
Having been the person that wrote the review for 2004's "Mythology", I made sure to make a claim on this year's promo a long time before it was posted to us by Inside Out, and it didn't take more that two or three spins to realise how justified this claim of mine was.
Even though the musicians that take part on the recordings of Derek's albums are all performing session duties, it seems that virtuosos such as Simon Philips, Zakk Wylde, Tony Franklin and Yngwie J.Malmsteen have become not just regular contributors, but more like members of the same musical family.
With that in mind, I can see why "Blood Of The Snake" bares quite a few similarities with "Mythology", even though its overall impression is that of a heavier album than it's predecessor.
If you exclude the progressive experimentations of "Czar of Steel" (featuring John Petrucci on guitars), the jazz rhythms of "Phantom Shuffle" and the Pink Floyd-influenced melodies in "Been Here Before" and "On the Moon", the remaining songs of the album are proper heavy metal dynamites that will not disappoint the fans of cut edge riffs and flamboyant solos.
Zakk Wylde's performance in "Man With No Name" is phenomenal, presenting us, not only with his really cool riffs, but with some really good quality vocals, thus erasing the bad memories of his previous efforts in songs like "The River Song".
In a similar vain, both the same-titled composition "Blood of the Snake" and the amazing "The Monsoon" will manage to raise the temperature in abnormal standards, whereas the quite epic nature of "Viking Massacre" will force even Yngwie J.Malmsteen's guitar work to sound less annoying and more to the point. My only objection is with Derek's decision to waste the talent of two great musicians such as Slash and Billy Idol in a very average and slightly silly cover of "In The Summertime", rather than creating another mind-blowing composition, worthy of their skills.
As far as I'm concerned, Derek Sherinian has managed to find the right formula that enables him to create good quality albums, while enjoying himself and that is quite evident in "Blood of the Snake". This album is an absolute "must have", and with so many amazing musicians taking part in this effort, I fail to see how anyone can resist getting their hands on it.
****½
Review by John Stefanis