DEREK SHERINIAN 'Mythology' Inside Out (2004)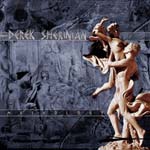 Damn, I knew it - I knew that as soon as I would hand over my list with the best albums of 2004, I would come across another killer release that would put me into deep thoughts. This is mid-November, and most of the members (if not all) of the GRTR team expected this and the following month to be more or less quiet. Well, it seems though that a certain keyboard player called Derek Sherinian had other plans for us.
I really cannot believe that there are many of you out there that are not aware of that name, but in case youíre not, let me name three of the bands that Derek has performed with during his very interesting career: Kiss, Alice Cooper and Dream TheaterÖimpressed? Well you should be!
After his departure from Dream Theater, Derek managed to keep himself pretty much occupied, not only by recording his own material (Derek Sherinian/Planet X), but also by participating in projects like 'Platypus'. It seems though that in the last couple of years, the keyboard player of Greek origin has decided to focus more on his solo career.
One year before, he released quite an impressive album called 'Black Utopia', for the recordings of which he acquired the help of artists such as Al DiMeola (God) and Yngwie J.Malmsteen. One year later, he launches another deadly attack with an equally good (if not better) album called 'Mythology'.
You know what I really admire about the solo artists who lets say 'belong' in the progressive scene? They all seem to be part of this great family, and every time they decide to record a new album, they normally work with some of the best musicians that are available in todayís music!
I nearly lost my breath when I read the list of all the musicians that took part in the recordings of 'Mythology': The guitar duties were shared between Zakk Wylde (Ozzy Osbourne/Black Label Society), John Sykes (Blue Murder/Whitesnake), Steve Lukather (Toto) and Steve Stevens (Billy Idol) - but wait, thatís not all!
You will be more than happy to hear that Marco Mendoza (Whitesnake) and Tony Franklin played the bass, and that the guy behind the drums is no other than Simon Philips (Toto, AC/DC). Last, but definitely not least, Mr.Jerry Goodman (Mahavishnu Orchestra) who has recorded some really amazing violin parts and gave more 'colour' to the album. Now, thatís a killer line up - donít you agree?
Derek is presenting you with a nine-track album that explores many different musical worlds - starting with the Progressive Metal outburst of 'Day of the Dead' , continuing with the salsa-influenced 'Goiní to Church' and even attempting an invasion of Hard Rockís holy grounds with 'Trojan Horse'.
What it also really impressive is that 'Mythology' is not an album that was created in order to satisfy the ego of a 'selfish' keyboard player, but a collective effort of many gifted musicians - that alone makes this album even more special.
There is not a single song in this album that I didnít like - my only objection is with Derekís decision to ask Zakk Wylde to sing on the last song of the album called 'The River Song'. Zakk is without doubt a very gifted guitar player, but I cannot say the same thing about his singing abilities (sorry Zakk)!
One of my very favourite songs of the album though is 'Day of the Dead', mainly because of the amazing guitar riff that the long-bearded giant has produced, and also 'Trojan Horse' where you have the outstanding performance of Jerry Goodman on the Violin.
Overall, I believe that 'Mythology' is an extremely attractive release that can appeal to a variety of different audiences. Donít kid yourselves: you only need to be two minutes in contact with this album, and youíre hooked for good! Well done, Derek!
****½
Review by John Stefanis