DENNY LAINE 'Reborn Again'
The Store For Music SFMCD002(2005)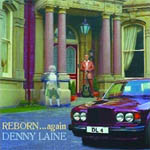 There are several things that spring to mind when someone mentions the name Denny Laine – The Moody Blues (Go Now, in particular) and Wings. And strangely enough they both feature here.
Reborn was originally released in 1996 as a 10-track album. It was re-released in 2001 as Reborn …again, with the addition of four extra tracks including new versions of Go Now and Mull Of Kintyre. I'm not sure that the world needs new versions of either, but that aside, this re, re-released version should presumably be called Reborn … again, and …again.
Quite what has inspired a re-re-release isn't immediately apparent. It can hardly be due to heavy sales. Perhaps Denny has mislaid his copy and has asked the publishers for a new one?
As we all know, Denny is a damn good musician, so it's no surprise he continues to ply his trade, but Reborn has a very 'home made' feel to it. It's perfectly acceptable stuff and the guitar work and vocals stand up to reasonably close scrutiny. But it's fairly bog standard fare – blues, rock, ballads played expertly with an almost Clapton / Carrack feel.
But the reason for the addition of Go Now – which adds nothing to the original, is a mystery. And as for Mull Of Kintyre, we are at least, saved the pipes. But without them it frankly sounds rather naked.
One for fans only I'm afraid.
***
Review by Pete Whalley

Reborn
© 2005 The Store For Music. All rights reserved.