DEF LEPPARD Yeah! Mercury (2006)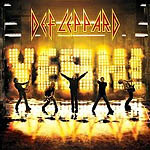 Now this collection of the band's 70's covers has caused much controversy, mainly due to the fact it has been oft delayed and that some fans want a new album rather than a covers album.
It is all down to personal choice as this will never sell as well as one of their studio albums but having said that it may draw in new fans curious over the songs covered.
Overall it is a very enjoyable album, be it the Sweet's 'Hellraiser' (complete with Justin Hawkins of the Darkness hitting the high notes) or a very rocked up 'Waterloo Sunset'.
Not so keen on 'Hanging On The Telephone' and 'Rock On' (the latter song I have never liked). ELO's '10538 Overture' is the album highlight, with the band keeping the original's horns and strings backing in place.
Guitarist Phil Collen takes lead vocal on the Faces 'Stay With Me' and does a very passable Rod Stewart impression!
Not as bad as I feared and overall a very enjoyable album. If you are a fan of the abnd at least give it a try as the trademark sounds are there - layered vocals and guitars coupled with big production.
****
Review by Jason Ritchie