DEEP PURPLE The Ultra Selection
Disky SI 902739 (2005)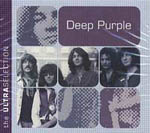 Alright, I can hear you moaning, what's he up to reviewing another bloody Deep Purple compilation album? Hasn't he banged on enough about how Mks 1, 3, 4 and 6 knock seven shades of shitzu out of the more lauded Mk2 version. Well, no I haven't because not enough of you pay attention to me.
But there is another reason for reviewing this. And that is because you can't buy it in the shops. For some strange reason, the current Purps management unleashed the hounds of hell upon the Dutch EMI affiliates who released this, and got it withdrawn. Which is odd considering the number of compilations out there.
The second reason is, it's one of the few single CD compilations which actually features Mks 1, 2, 3 and 4! Amazing really, but it's actually not that easy to get a decent, budget compilation of tracks from the whole lifespan of the band. And this one does the job rather well. If it wasn't for one foolish piece of sequencing, it would do rather nicely as an introduction to the band.
Frankly, you can't get a much better start to an album than Mk 1 blasting through "Mandrake Root" and "Wring That Neck". Also, by including an instrumental it takes care of the people who don't care for Rod Evans singing. Mk2 gets taken care of with the still blinding "Living Wreck", the studio version of "Black Night", a live "Smoke On The Water" and "Demons Eye". "Lady Double Dealer" covers Mk 3 and the glorious "Comin' Home" puts them all to shame. One of the finest opening numbers of any seventies rock album, sprinkled with Tommy Bolins magic guitar.
Then, for no discernible reason, the album finishes with a live "Never Before" from Mk2. Thoroughly ruining the flow, what we needed was another Mk 3 number (preferably from "Burn") and I would have been a happy old rocker.
So, nearly a very good compilation, and if you got one, congratulations – save it for Ebay in a few years time! PS – don't tell anyone but play.com still have it listed for a fiver!
***
Review by Stuart A.Hamilton