DEEP PURPLE Rapture Of The Deep Edel Records (2005)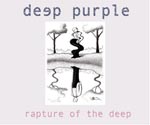 So, here it is, the new Deep Purple album. Not much to get excited about really. The days when I would have sleepless nights anticipating the latest release from my beloved Purps are long gone. Especially with the diabolical 'Bananas' fresh in my mind. The worst album ever put out by the band, worse even than 'The Battle Rages On'. Coupled with some decidedly below par live performances the last few times I'd seen them, the postman was spared the hugs and thank yous that embarrassed both of us in years gone by. But as a hardened music reviewer, it was on with the show. Duty called and I prepared myself to listen.
And what do you know? Opening track 'Money Talks' is an absolute cracker, an up tempo rocker with a memorable hook, some sparkling keyboards from Don Airey and a tasteful solo to boot. A good start. Shame it had to be followed by 'Girls Like That', a dreadful song which would have been shunned by Gillans solo band as 2nd rate, although more high marks go to Don Airey for a brave attempt to save it.
'Wrong Man' is a step back in the right direction, with a full on heavy riff, tremendous work from Roger Glover and Ian Paice and a groove straight from 'Slaves And Masters'. I'm sure Mr Blackmore is beyond pointing and laughing, but the bluesy, funky direction prevalent on some of the better material here will doubtless cheer him up. The title track, and a dreadful title it is too, is straight out of the 'Perfect Strangers' mould, and I'm sure their fans will take it to heart, mid-paced, moody and borderline magnificent.
Vast claims have been made for 'Clearly Quite Absurd', with people who should know better placing it in the pantheon of Purple greats, but I just don't hear it. Sounds like a second rate Moody Blues tune, and when the band are mixed low on the ballads, Gillans vocals don't really stand up to close attention. Fortunately, it's back to the blues / funk for 'Don't Let Go', a tune I'd love to hear Glenn Hughes sing! But, no seriously, it's mooted as the radio track, and might work. Melodic enough not to scare the Radio 2 listeners, different enough to intrigue those unfamiliar with modern Purple, but the chorus is a bit of a let-down.
'Back To Back' is at first listen a bit of a filler, but then it made sense. It could easily have fitted on to 'Mr Universe', 'Glory Road' or 'Future Shock' – the holy trinity of Gillan albums. A great Gillan song, but not really a Purple one. Fun, though. 'Kiss Tomorrow Goodbye' has ended up as one of my favourites, some pounding rhythm work, semi spoken singing from Mr Gillan and some more excellent keyboard work from Don Airey, a man who emerges as the hero of the piece, with some fine saving tackles on the lesser material.
'MTV' is another semi spoken number which, irritatingly enough, will be one of those limited edition con jobs that force fans to buy 2 versions of the same album. If you want to hear it, you'll need the limited edition in a tin box, rather than the regular version. In the old days it would have deservedly been the single B-side. 'Junkyard Blues', however, is another highlight as the driving blues motif which recurs throughout the best material here reappears with a sprinkling of honky tonk piano and some ZZ Top guitar riffs.
Things end up with 'Before Time Began', and this is the track people should be talking about instead of 'Clearly Quite Absurd'. Taking Purple back to their progressive roots, it's a dark and affecting piece of melancholia, topped off with some of Gillans better lyrics, touching on the modern world and the amoral society we live in. By far, the best song here and one that should be hailed as a future classic.
This album sees Deep Purple relegated to the realms of major minor Edel Records, home to David Hasselhoff and a website that doesn't acknowledge their existence (you have to go to the German site to track them down). A label that gets the tracklisting wrong on the album ad hires the worst promo writer in the world to write the press release. Quote; "This is the best Deep Purple album there is, dammit! Forget Machine Head.." Quote; "The whole transcends the sum of its parts, which is fitting for a record that seems to be, in a very real sense, about transcendence." What the hell!
But after the debacle of 'Bananas' this is a worthy album. It's not a classic in any sense. But returns them to the medium they belong in after the misguided pop dabblings on its predecessor. There are 4 songs that stand up to the legacy that Purple have created, maybe another 4 that are good Gillan songs, but don't really belong on a Purple album and a few fillers. It's not going to return them to the big time but their remaining fans will like it
***
Review by Stuart A.Hamilton
NB. The European limited edition will be available in a tin box with the bonus track 'MTV' and an enhanced video track.
The Japanese version will contain the bonus track 'Things I Never Said'.