DEEP PURPLE 'Live In Stockholm 1970 Konserthuset 12 Nov.1970' (2005)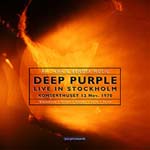 Widely bootlegged since year dot, this has long been hailed as one of the finest Mk 2 performances caught on tape. And time has not withered it's impact. If anything, the remix and remastering has made it even better than on the several other 'unofficial' versions I have lying around.
To be fair, "Speed King" is a bit uneven, but by the time they hit "Into The Fire", this is the sound of a band that knew they were white hot. Even that hoary old chestnut, "Child In Time" sounds fresh and vital. Which it was in 1970!
But then, it's off into my favourite of all Mk 1/2 worlds - "Wring That Neck". Shorn of Gillans histrionics, Deep Purple were peerless, when it came to instrumental mastery. And this one of the finest versions of "Wring That Neck" going. Twenty minutes of sheer magic.
I never liked the Purple version of "Paint It Black", regardless of the drum solo, so skipped on to that other gem, "Mandrake Root". Of all the tracks here, this is where the remix seems to have done most good, with the muddy bass cleaning up well. Then it's hit single time, with "Black Night", and we're off home.
So, should you buy this, if you've already got "Scandinavian Nights"?
Well, yes. First of, the running order is right, the sound is clearer (and louder), you get the usual high quality Purple Records booklet (and reproducing the ticket on the CD is a neat touch), and this is as good as Mk2 Purple gets.
****
Review by Stuart A Hamilton
Related>> Album review (Burn)