DEEP PURPLE 'The Early Years ' (EMI 5966112 )(2004)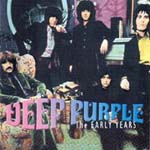 An interesting one, this. Tucked away as part of the EMI Early Years collection, this ostensibly rounds up 14 tracks from the Mark 1 Purple line-up of Lord, Paice, Blackmore, Evans and Simper. However, ignoring the lamentable marketing trick of remixing old tunes, this actually sneaks in 2 previously unreleased performances. This is quite cruel, as those of us with a yen for the Mk 1 years have to shell out for 12 tracks we already have. But it is a budget release, so at least it's only £7, not £14.
So what do you get. From "Shades Of Deep Purple", there's 5 tracks - "And The Address (2003 remix)", "Mandrake Root", "I'm So Glad (2003 remix)", "Hey Joe (2003 remix)" and one of the rarities, a 1968 monitor mix of "Hush".
"The Book Of Taliesyn" gives us another rarity in the shape of an alternate take of "Kentucky Woman", then "Listen Learn Read On", "Shield", a BBC session version of "Wring That Neck" and "Anthem".
My beloved "Deep Purple" is grossly underrepresented by "Bird Has Flown", "Blind (2003 remix)", "Why Didn't Rosemary" and "Lalena (instrumental)".
It's a reasonable selection of material documenting the development of Deep Purple when they were a truly progressive outfit, prior to the arrival of Gillan and Glover and their mutation into a generic, albeit brilliant, hard rock outfit. At this price, it serves well as an introduction to those unfamiliar with the first 3 albums, although buying the remastered version of those would be my first recommendation. If you've got those, then it's very much a judgement call whether you want the two unreleased numbers, although the 12 page booklet is well written and informative.
***
Review by Zeitgeist
Related>> Album Review
Related>> DVD Review