DECEMBER WIND 'December Wind'
Strong Wind Records (2005)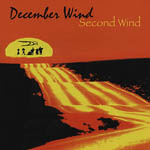 December Wind. Second Wind. Full of wind? Actually, no.
December Wind hail from the Mohawk Nation located on the border between New York and Canada and are marketed as a native American folk rock band, or AlterNative.
As you might expect of anything branded 'native American' there are images of eagles, tribal beats, pipes and lyrical references to buffalos, Custer, ponies etc. But just how does that mix with rock? I must admit I had my reservations (excuse the pun).
Butterfly opens with acoustic guitars and a west coast sound. The vocals are strangely reminiscent of Michael Stripe. It's surprisingly good and there are wonderful guitar breaks. It's a throwback – classic rock. I'm somewhat taken aback.
Fly With Me follows. It carries on where Butterfly left off – melodic lead guitars, uncomplicated rock. Lynyrd Skynrd would have been proud of this.
The Indian drum beats, chants and pipes arrive with Ghost Dancers. For me, it doesn't fit. Pretty Girls returns to rock – a boogie with a late sixties feel and more excellent guitar work. One And One and Dance To The Sun drop the pace and could be REM at their best.
Because You Want To opens with acoustic and Neil Young-like blues harmonica before the tempo picks up, but the peach is Custer's Greed which has a wonderful Doobies Long Train Running feel. Again with some excellent guitar work.
Captain adds a bit of funk to the mix and more lead guitar than you could shake a stick at. The bass opening of Images rattles your speakers before the guitars kick in for another dose of melodic rock and haunting vocals.
The 'Country' element finally arrives with Fly and Who Really Matters. Fly is OK in a fingerpicking sort of way. And Who Really Matters tips a wink to Johnny Cash. But both sound somewhat out of place.
I came to this album thinking it would be some sort of novelty record. I couldn't have been more wrong. For the most part, they don't make many albums like this anymore. And that's a damn shame.
****
Review by Pete Whalley
Custer's Greed
© 2005 December Wind/Strong Wind Records. All rights reserved.