DEAN JOHNSON Up Your Auntie The Best Of 96/06 (2006)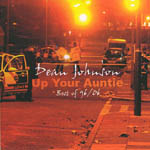 Marking over a decade as recording artist, Wirral singer songwriter Dean Johnson has culled this 12 track 'best of' from his sprawling back catalogue.
No stranger to favourable reviews from mainstream publications such as Mojo, Classic Rock and Q, and with a string of self produced albums under his belt, Dean's light remains - for some unfathomable reason - at the back of the dole queue.
With lyrics of barbed social observation delivered over a gently strummed guitar or with a standard beat combo backing, there are moments of beauty and inspiration here. Songs that can really get under your skin.
Musical reference points along the way include Bowie (circa Hunky Dory), Lou Reed, Dylan, Costello and Geldof - to name but a few.
Throughout, Dean's vocals have just the right balance of grit and emotion - perfectly complementing the disturbing pictures of housing estate life his lyrics portray. Dean tells it like it is. No compromise. And that may be uncomfortable for some.
But there are enough undiscovered gems here to suggest that with focus, perhaps a little compromise and a shed load of luck, Dean's boat could still come in. But with his luck it would probably only be the Mersey Ferry.
***½
Review by Pete Whalley