DEACON STREET PROJECT 'Deacon Street Project '
(AOR Heaven 00007 Advance promo, release date 29.03.04)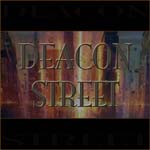 You cannot really fault this CD. Great playing, good songs, but it is stuck in the timezone that is 1980. This is ok if you are penchant to a bit of sub-Toto rock, but in the year 2004 you would hope that it could be brokered with a bit more attitude.
Like the Blind Alley CD reviewed elsewhere, this is a Swedish-based production and it would seem that the natives are still very much into the music of two decades ago. Featuring guitarist/songwriter/producer Tommy Denander and partner Chris Demming(vocals) they have enlisted the talents of others such as Bruce Gaitsch and Jeff Northrup.
If melodic rock's your bag you'll find it here aplenty. You'll also find the homage to American AOR peddled by the likes of Journey, Toto, Winger (the glorious 'Find Me A Meaning') and even Bryan Adams before he went pop ballad. 'Caught Up In A Fear Of Loving' would be fantastic if it wasn't so much of a Toto rip-off and, frankly, it's too close for comfort right down to the "Hold The Line" keyboard frills.
Amazingly, perhaps disconcertingly (and like the Blind Alley CD), there is a killer song that would do any boy band proud, 'Love Got A Hold On Me'. Maybe they are not so out of kilter with 2004 after all, indeed perhaps this is the logical conclusion for eighties melodic rockers. Sanitised, commercialised, wrung dry, and a career writing for Blue?
The much needed attitude comes late. Track 10 'I Don't Mind' has a wonderful chorus, just great for those early summer sweeps of the local country roads. It's convincing because it's not a Toto rip-off, and the urgency owes more to the post-punk garage bands of the nineties.
Two and a half decades on there are decreasing airwaves for the bulk of this material and it is a pity because the band seem to have recognised in the opener 'Radio" that the medium was always a key to the success of AOR, especially in the USA. "Put your faith in the Radio", they sing. More to the point, put your faith in Deacon Street Project and keep it there: for God's sake get them to the Gods Festival where "blow away the opposition" may become the new gospel.

Label Website
****
Review by David Randall
Before I Loved Just You
© 2004 Deacon Street Project/AOR Heaven. All rights reserved.