DEACON BLUE Singles SonyBMG (2006)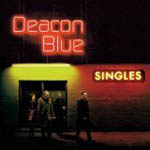 Deacon Blue's Raintown was/is a classic album that should grace most record collections. While it's not one I reach for repeatedly, it does occupy a place of pride (alone) in my collection under Deacon Blue. For me, the band simply went too commercial after that - focusing increasingly on the pop end if their repertoire.
But you can't argue with the success they achieved as we are reminded by this 21st anniversary digitally remastered collection that includes 16 Top 40 hits including their first hit single Dignity, Real Gone Kid, Chocolate Girl, Twist and Shout, and Fergus Sings The Blues to name but a few. Also included are 3 new songs - The One About Loneliness, Haunted and the new single Bigger Than Dynamite.
Unless you lived with your head in a bread oven throughout the late 80s and early 90s you'll be familiar with the hits. And you might already posses a copy of the 1994 Greatest Hits album Our Town. But suffice to say they have been lovingly remastered and sound as good as you've heard of them.
Two of the new songs were written around December 2005 specifically for this project, while The One About Loneliness was written by Ricky Ross as the closing number for his 2005 solo tour. And none of them sound out of place on this collection, which suggests there could be a new chapter in the Deacon Blue story just around the corner.
****
Review by Pete Whalley
***** Out of this world | **** Pretty damn fine |
*** OK, approach with caution unless you are a fan |
** Instant bargain bin fodder | * Ugly. Just ugly
get ready to rock is a division of hotdigitsnewmedia group
Why should I buy this CD?
Quality pop, dusted down and dressed up in new clothes
Burn baby burn
Dignity, Fergus Sings The Blues, I'll Never Fall In Love Again, Chocolate Girl, When Will You Make My Telephone Ring