DAVID SHANKLE GROUP 'Ashes To Ashes' Nuclear Blast NB11242 (2003)

David Shankle was the guitarist with metal titans Manowar between 1988 and 1995 and here he is with his debut album and band. Joining him are vocalist Trace Edward Zaber, bass player Brian Gordan, drummer Eddie Foltz and keyboards man Eddie 'Shreddy' Bethishou. It isn't Manowar but fast paced power metal in the Helloween and Hammer Fall style.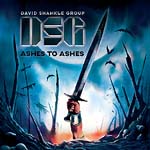 'Ashes To Ashes' storms in with the keys played at almost as frantic pace as the guitars! Vocalist Zaber is a classic metal singer, plenty of power in the voice and screams when needed. Like the title sequencing as well, with mellow 'The Widow's Grief' quickly followed by 'The Widow's Peak'! The ballad 'Calling All Heroes' is a well-crafted song, from the 'call to arms' chorus line and slow building backing. Manowar without the loincloths if you will. Other standouts include the dark and brooding 'The Tolling Of The Bell', where Shankle's riffs are very heavy and rumbling. 'Madness' sees those keys flying away again - how the heck do you keep that speed of playing up? Shankle closes the album with a fretboard workout on 'Voice Of Authority'. No real duff tracks here and the album does not outstay its welcome.
A very powerful album, very well played and the songs to back it up. Stars of the show are Shankle's guitars and the keys of Eddie 'Shreddy'. Live, this band will be awesome judging by the sheer intensity of the songs on here.
****
Review by Jason Ritchie