DAVID KITT Not Fade Away Rough Trade (2006)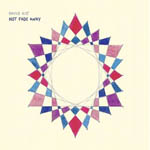 There's a lot of good music coming out of Ireland at the moment. And plenty on the singer-songwriter front - Eleanor McEvoy's corking new album Out There, and Damien Rice's 9 to name but two.
David Kitt may not be a name you're familiar with, but he's delivered a prolific four albums since his debut in 2000 with Small Moments, Not Fade Away being his fifth. While previous albums have been a melting pot of styles from acoustica to electronica, his latest release - recorded largely in his home studio in Dublin - embraces an even wider range of influences.
Produced and mixed with assistance from Karl Odium and Tore Johansson (The Cardigans, Franz Ferdinand) Kitt handled most of the instrumentation himself including guitars, drums, programming, bass, synths, samples and even some banjo.
And, of course, there was a little help from friends, including Romeo and Michelle Stoddart from the Magic Numbers, and Lisa Halligan who features prominently on Damien Rice's new album.
It's a beautifully produced affair - the songs allowed space to breath in the uncluttered mix. From the Teutonic rhythm of One Clear Way, the throbbing bassline of Up To You, the Bowie / Eno riff on Sleep, the Neil Young meets Dr Dre antics of Wish And I Won't Stop, the folky Guilty Prayers, Pointless Ends, the classy pop of Say No More, and the simplicity of With You.
A varied bag, beautifully put together. The limiting factor being David's vocals which tend to be mono-toned, but not monotonous.
***
Review by Pete Whalley