THE DAVE RICH BAND Overload Livid LIVIDDRB1 (2006)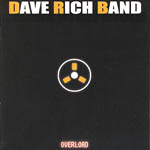 Five piece band with Dave Rich on vocals/guitar/piano who have created an enjoyable album. Musically some of the songs on here are reminiscent of Crowded House and Bruce Hornsby like 'Simply Falling' and the title track.
Well produced with a rich sound and some neat piano/harmony vocal passages it is a pleasant listen - nothing too challenging and you could see these tracks getting an airing on say late night Radio 2.
Not a classic by any means but certainly worth a listen if you enjoy Bruce Hornsby, Crowded House or Deacon Blue.
***
Review by Jason Ritchie