DARK SKY 'Living And Dying' AOR Heaven (2005)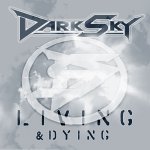 This German band formed in the early 80s and after a series of changes and releases, they have settled down and produced this solid set that is, as the label tells you, AOR. But it's a little heavier and doomier than your typical AOR.
Some crunchy riffs, a solid bass and intricate keyboards make for enjoyable listening, and "Save Our Souls" typifies the better edge that is definitely worth checking out.
It's not as commercial as you'd expect in places.
The vocals take on a Joe Lynn Turner edge for the odd song, but are darker in others, and the keyboards are pompy in a pleasant way. And the songs are well sung in English too – refreshing.
Good and enjoyable if not too outstanding.
***
Review by Joe Geesin