Two for the folkies...
Recently released by Silverline, on the sexy DVD-A format, Dar Williams two most recent studio albums.
Now, with a name like Dar Williams you could be forgiven for thinking she might be of Welsh descent. But no, Darís a New Yorker and a singer songwriter with a folk background and sitting comfortably into the Joni Mitchell, Suzanne Vega camp.
The Green World (2001) is a gentle album recorded in Woodstock and New York. Producer Stewart Lerman captures the performance beautifully and Dar and her supporting cast are on top form.
Her basic style is one of folk based storytelling with a voice pure and poignant throughout. Nice. And you canít argue with the quality control. ***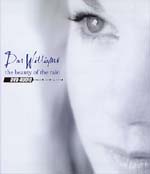 The Beauty Of The Rain (2003) sees an expanded supporting line up including the likes of Alison Krauss, from John Popper from Blues Traveler (whose vocals sound like early Cat Stevens) and Stefan Lessard from the Dave Matthews Band. And as a result itís a more mainstream attempt, opening with Mercy Of The Fallen written in part, in Chester - maybe there is a Welsh blood there?
Throughout, the album has a more upbeat delivery and a fuller sound. And while the folk roots still surface time-to-time, Darís vocals and the overall sound are heavily reminiscent of early Sarah McLachlan recordings. ***
So, both decent albums, both pleasant on the ear, but for my taste a little one paced. If folk (and related) is your thing and your collection is packed with McLachlan, Mitchell, Vega and the like then these are probably right up your street. On the other hand if you like it a bit more raunchy (like me), then these albums never really Ďrock outí at any point.
Extras include photos, lyrics, weblinks and a tour rehearsal video (on The Green World).
Finally, Iíve said it before, and Iíll say it again, Iím still not convinced by the DVD-A format. The sound is wonderful, yes, but the extras are generally limited, the visuals not really worth turning the TV on for and you canít play the buggers in your Walkman or car. Give me a CD every time (unless you a real hi-fi freak).
Review by Pete Whalley