DAMAGEPLAN 'New Found Power '
(Elektra 7559-62939-2)(2004)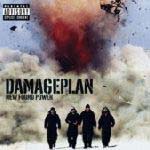 Finally, after what seems like years of infighting and name-calling, the musical half of Pantera finally get round to releasing their new CD. Dimebag and Vinnie have been kept on by their former employers at Elektra and brought in former tattoo artist Bob Zilla on bass and former Halford guitarist Patrick Lachman to take the place of the irreplaceable Phil Anselmo.
It was always going to be impossible for the brothers to live up to the legacy that Pantera left behind, as one of the most influential metal acts of all time, and so it proves. For while Anselmo distances himself from his past by immersing himself in the black metal aberration of Superjoint Ritual, Dimebag and Vinnie have walked the braver path, and looked their legacy right in the eye.
The accusations have been flying around claiming that this is derivative, which misses the point. These guys wrote the music in Pantera. That sound was their sound. The mistake they seem to have made in many eyes is not changing. It's a risky step, and by using a new band name, they have tried to cover themselves.
The album starts off in "Trendkill" fashion with "Wake Up" and "Breathing New Life" redolent of that album. However, come the title track, they lyrically take on their past with a cry of 'Cleansing yourself of the past, learn from mistakes and move on, conquering new ground at last, unite and become twice as strong'. Brave words.
They do attempt some progression with "Pride" being the best example, where they try and weld melody to the Pantera riff juggernaut, something, which also works well on "Reborn", where Zakk Wylde adds a Sabbath riff to great effect.
As with many albums, at 14 tracks, it's too long, and come track 10 they, and the listener, start to flag. Some judicious trimming could have lifted this from the good to the great. In addition, Pat Lachman needs to find a voice of his own. Don't get me wrong, he does a good job, but with hints of Anselmo, Cornell and Staley showing through too often, you can tell it's his first singing gig.
If "New Found Power" had come from any other source, it would be hailed as an outstanding release, there was a lot of pressure on them to deliver, and this doesn't quite make it. However, it runs rings around Superjoint Ritual, something which I'm sure the brothers will be happy to hear.
***
Review by Zeitgeist