CRIMINAL 'Sicario' Metal Blade(2005)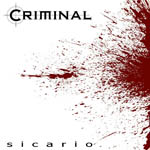 If you take a close look at the South American metal scene, you will make a very important discovery – one that you will not find in any other music scene around the world. This geographical area seems to concentrate the biggest number of extreme metal bands in relation to the general musical population. Well, I can't say that I am really surprised! We all heard stories, from the mouths of people like Max Cavalera, on the terrible conditions under which people in places like Brazil and its neighbouring countries live. That was probably more than enough motivation for the two Chileans, Anton Reiseneger (vocals, guitars) and Rodrigo Contreras (lead guitar) to indulge in extreme metal and form the extreme Thrash/Death metal outfit Criminal, back in 1991.
This story may have started on the South American continent, but the future of the band was decided four years ago, when Reiseneger decided to move to England. Having been through tough times with his previous labels, he decided to continue pursuing his musical vision on the misty Albion. Soon his old friend Rodrigo Contreras decided to follow in his footsteps, and a new era for Criminal began. Having been under the protective wings of Metal Blade since early 2000, the members of Criminal are about to release their fifth studio effort (third with Metal Blade) entitled "Sicario".
There is something in the style of Criminal's music that I don't remember finding in any other band lately. Even though they are not following any radical approach in extreme metal music, they manage to sound quite fresh and modern by using old and well-tested "traditional" formulas. That result makes "Sicario" a very enjoyable album, which on the other hand is not guaranteed to bring you to ecstatic delirium. If you listened to the first few notes of songs like "Rise and Fall", "Time Bomb" or "Shot in the Face", you will probably think that this band is another The Haunted clone, but you will pretty soon discover that Criminal are more influenced by bands like Sepultura ("Arise" era) and Kreator ("Coma of Souls" era) rather than by their Swedish offspring.
The band sounds extremely tight and quite heavy, but to the dissatisfaction of some, the members of Criminal are far more interested in creating short, mid-tempo compositions rather than fast shredders – the only exception perhaps being "Shot in the Face" where for something like three to four minutes this band will sound more like a Black Metal outfit, with blast beats and high pitch screams taking the lead role. Due to its unusual nature, "Sicario" is not the album that will provide you with instant hits. It will take a few spins in order to get better acquainted with the twelve compositions that are featured in this release, but then you will probably find songs like "Walking Dead", "The Root of All Evil" (killer refrain) and "Touch of Filth" quite difficult to resist!
It is very difficult for me to describe "Sicario". If you like traditional Trash/Death and you don't mind a few modern "touches" here and there, then you should definitely give it a go. Reiseneger and Co are obviously enjoying playing this kind of music, and they definitely have all my support – still, I am sure that they can do much better in the future.
***½
Review by John Stefanis