CONSTRUCDEAD 'The Grand Machinery' Black Lodge (2005)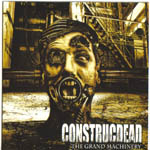 I remember being quite surprised earlier this year when, instead of getting my hands on Construcdead's new full-length release, I was given a promo copy of a four track E.P entitled "Wounded". Why would the Swedish quintet release an E.P based on a song from their 2003 release "Violadead" instead of creating something new for their fans? Well, it may not have been that obvious at the time, but the mission of these three extra songs was to indicate the new direction that the band was to follow, but most importantly pave the way for the band's third studio album "The Grand Machinery".
There were quite a lot of people who were more than happy to describe Construcdead as Soilwork or In Flames clones, and that obviously didn't make the five Swedes extremely happy. Maybe Peter Wichers and Bjorn "Speed" Strid's early support and contribution had a negative effect on the way the band was perceived by music fans around the world and it was obvious that something had to be done about it. The solution was quite simple: the new album had to be faster and more aggressive than their previous effort, and most links with Soilwork and their music should be expelled . Did the members of Construcdead manage to achieve those changes with "The Grand Machinery"? Well, let's say that they took quite a few steps towards the right direction.
Just like with "Violadead", the new album consists of twelve compositions, but it is noticeably shorter by seven whole minutes, which is the first indication of the band's intentions to invest in faster songs. The proof will come straight after the twenty six second intro "Grand Machinery", when Eric Thyselius' double bass drumming in "A Cog in The Machinery" signals the beginning of a thirty nine minute presentation to the world of melodic Death Metal. Of course Construcdead cannot deny their roots completely, so you should also expect to hear more melodic/catchy songs like "The Lustfull" and "8 Inches of Flesh". Even though I do appreciate the previously mentioned songs, I was more attracted to the raw energy and brilliant guitar work of "Treachery" and the classic metal elements of "Forever Cin" – a very unusual but most interesting composition. I don't know what your impression of this album will be after listening to the last notes of "Hatelist", but I assume that you will most probably feel the need to listen to "The Grand Machinery" once again, in order to establish a better opinion.
I was hoping that Construcdead would decide to walk that extra mile with their new album, and even though they haven't excelled themselves, I can still claim to be satisfied with what they did on "The Grand Machinery". It is not easy for a Swedish Death Metal band to come up with something new but it looks like this outfit is willing to give it a try.
***½
Review by John Stefanis