The Grandfather of Rock enlists Queen guitarist...credibility factor rises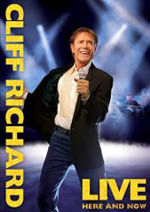 OK, OK. But look ... there was a time when Cliff was cool. Admit it, you've watched Summer Holiday and envied Cliff's bird pulling abilities (Olivia Newton John, anyone for tennis?). And love him or loathe him, he's an institution - a grandfather of rock. There may have been no Iron Maiden if Cliff hadn't pioneered rock and roll in this country. Sad, but true.
Anyway, these days you could be forgiven for thinking that Sir Cliff's only fans are throngs of middle-aged housewives (more than a few who are now entitled to a free bus pass). And to an extent that's true, but to some he is still a rock God, and to prove it (and to justify this review on the GRTR! site) who features on his latest single - a rock re-working of Move It? None other than ex Queen guitar legend Brian May. So Cliff must be cool ... right?
The performance featured on this DVD was recorded live at Wembley in 2006 and features a selection of older hits, favourites, ballads and even a couple of tracks off his new Two's Company album. And whatever you may think, Cliff hasn't retained hoards of adoring fans decade after decade through being a slouch. No, he's a supreme showman, a trooper and guarantees a great performance and value for money.
Introduced by Cliff himself the DVD is a neat package. Nicely shot, songs dredged from deep in his back catalogue and a hefty selection from his more recent albums, it's all beautifully choreographed and staged.
You get a 'full hit' of 27 tracks and you just have to admire the man's stamina and professionalism. As entertainment goes, it's impossible to knock.
This DVD is a must buy for fans - those who attended his 2006 dates or those who simply wish they'd been able to get hold of a ticket. Hell, I even found myself enjoying it!
****
Review by Pete Whalley