Three DVDs from Classic Pictures feature three seventies icons...
From German TV we get three fragments from bands who made their name in the seventies. T Rex went from acoustic hippies at the beginning of the decade to electric gods with a very commercial approach.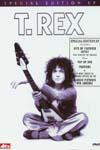 This performance features four of their best-known 'hits' between 1971-3 'Ride A White Swan', 'Jeepster','Life's A Gas' and '20th Century Boy'. I think all you can say of the Germans is that they were well into vision mixing techniques, either that or they were heavily into something else. Whilst of-its-psychedelic-time these effects actually obscure the band on the first track. The sound quality is good though.
'Jeepster' shows a band at their creative and commercial peak, there is an element of urgency in the performance. '21st Century Boy' is wonderful with a raunchy riff that sounds as good today as when it first appeared in 1973. Lovely to see those Orange amps again, too. **** (Classic Pictures DVD6077X)
T Rex's contemporaries Status Quo had gone from a band playing pop on the Pye record label (stablemates to Petula Clark amongst others) to a hairy bunch of rockers for whom denim was de rigeur and who gave a new meaning to the term 'three-chord trick'.
These sessions bridge the gap between the pop and the rock that was to follow. The common denominator is that the Quo could always write a catchy tune. This film is made all the more poignant beacuse it's shot in black and white. 'Technicolor Dreams' still retains the 'Matchstick Men' legacy (a hit in 1967) with both its phrasing and its phasing. 'Spinning Wheel Blues' is the track that comes closest to the classic Quo of the future. And it's in colour! *** (Classic Pictures DVD6076X)
Although Roxy Music came out of the glam rock era they were always a more unique phenomenon blending an art-school cultism with pop rock commercialism.
These sessions come from their classic 73-4 period and that classy line-up which featured Brian Eno on keyboards. 'Virginia Plain', 'Do The Strand', and 'All I Want Is You' will bring back memories of high school discos, rampant Ferryism in spite of a lack of hair gel, and generally more happy-go-lucky times. **** (Classic Pictures DVD7000X)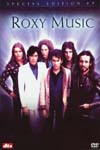 All these DVDs at a mid-price, are well packaged, and come with a 'DVD Jukebox' which features selections from Classic Pictures' other releases. A nice touch.
Review by David Randall
© 2003 All rights reserved.