Two DVDs from Classic Pictures show two major British rock acts at work in the eighties
Judie Tzuke went through a twilight period in the late eighties - between labels and somewhat out of synch with the prevailing musical trends. But a decade earlier she had been catapulted to fame with the delicate ballad 'Stay With Me Till Dawn', a staple in the car cassette player for many a couple during that period, whilst her posters graced the wall of many a male student bedsit.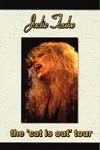 Latterly, Judie formed her own Full Moon record label and she has to be congratulated for doing her own thing away from the glare and possible complications of a mainstream label contract. Moreover, in recent years her back catalogue has become available again as she has wrestled the rights back from Elton John's Rocket label.
This Fairfield Halls concert was recorded for a TV special in 1985 and is an excellent showcase, focusing on 'The Cat Is Out' album which Judie was then promoting. It also features Judie's classic band of that period with husband Paul Muggleton and Mike Paxman together with John Edwards (more recently seen with Status Quo) and Bob Noble.
The DVD also marks a transition from the driving rock sound that Judie Tzuke favoured in the early eighties, which created something of a dichotomy for hardcore fans who remembered her as a tad more fragile on the original 'hit' single.
More recently Judie has reasserted her status as one of rock's most talented female singer-songwriters and could easily find a new audience latterly turned on to the likes of Dido and Jewel. **** (Classic Pictures DVD1087X)
John Martyn should be certified as a national treasure. In a quarter century of music-making he has always pushed the boundaries, developing an individual style from his early folk beginnings to his later jazz fusion sorties.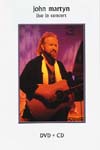 This 1984 'Live From London' TV recording captures Martyn at his laid-back best with a crack band, and during the period that he was promoting the album 'Sapphire'. Die-hards will welcome the inclusion of old favourites 'One World' and 'Sweet Little Mystery' but the more recent material also passes muster. The resulting dense weave of sound is hypnotic, cut through the middle in places by Martyn's fuzz guitar and glued into position by Foster Patterson's synth which also doubles up in the rhythm department.
Both these releases have the novelty of a 'bonus' CD with the audio soundtrack. The CD is actually placed back to back with the DVD. A nice touch for those that like to take out the audio for that midnight drive. **** (Classic Pictures DVD1091X).
Review by David Randall
© 2002 All rights reserved.