CHRIS HILLMAN 'The Other Side'
Sovereign Artists SOV1959 (2005)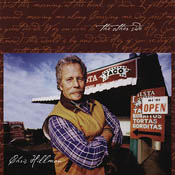 To the older generation, especially those with an interest in folk rock and country rock, many will recognise the name of Chris Hillman.
With a pedigree covering The Byrds, The Flying Burrito Brothers and The Souther Hillman Furay Band, heís had a long and renowned career.
This new studio set fuses folk, country, blue grass and rock, making for an enjoyable listen if you can cope with the picking style.
Playing mandolin and guitar, the singer is accompanied by a large band in true country style, including fiddle and banjo, although the country influence is thankfully more bluegrass than Nashville.
Opener Eight Miles High is a strong number, and other songs show off Hillmanís vocal range well.
Thereís some neat guitar work too, but with this style of music there is the danger of sameness creeping in. Itís not bad here but not unavoidable.
For country-rock itís a good album and an enjoyable listen, but you do need an interest in country music to really appreciate.
***
Review by Joe Geesin
Eight Miles High
© 2005 Sovereign Records Inc. All rights reserved.