CATARACT 'With Triumph Comes Loss' Metal Blade (2004)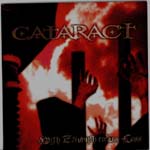 There is no doubt as to the fact that Thrash and Hardcore are two of the most energetic styles in Heavy Metal music. It is quite understandable, since the main issue in both cases is the release of that energy (positive or negative) through the music, which is often translated by the fans either by crowd surfing, stage diving or moshing!
Well, Cataract is one more band that chose to use this explosive formula in their music. Influenced by the ever powerful Slayeric riffs and the aggressive attitude of bands like The Haunted and Stampiní Ground, the Swiss quintet has just released their third studio effort 'With Triumph Comes Loss' through Metal Blade records.
I didnít need more than the first few notes of 'Killing Tool', the opening track of the album, in order to realise exactly what I was dealing with. Cataractís style of music has been frequently adopted by many bands in the recent past and the results were pretty much the same.
No, that does not mean that I didnít find this album at all attractive. I grew up listening to bands like Slayer, so the use of these 'well known' riffs (even though they are extremely extensive at times) was not a negative element as far as Iím concerned.
I am also a big admirer of the Hard Core scene so all these elements were more than welcomed on my part.
The main problem is that Cataract created an album that has eleven equally interesting songs, and in this specific case thatís rather a negative thing. In order to be able to stand out in that specific genre, you have to create THE compositions, and I am in the difficult position of having to say that 'With Triumph Comes Loss' is not such an outstanding album.
Yes, there are moments like in 'Nothingís Left' and 'Reborn From Fire' where the members of the band show that they can potentially create something really good, but overall you have the feeling that you have listened to such compositions many times before, by an equally large number of different bands.
'With Triumph Comes Loss' will definitely apply to the fans of this style of music, but I believe that it doesnít have the strength to achieve something better than that. If becoming part of the mosh pit is your main objective in the gigs that you attend, this is the album for you.
***
Review by John Stefanis